It was great to partner with Mow Cop Community Church on the Cheshire/Staffordshire border for a weekend of really useful ministry.
On the Friday night, we did an event in their local village pub. The church booked a function-room there and Christians were encouraged to invite non-Christian friends, family-members or colleagues along. They invited me to join them and speak to the people there about the question of suffering, That's such an important question, which we get asked all time at Solas. One of the ways it is often framed is, 'If there is a good God, why is there suffering?' So we used that as our title.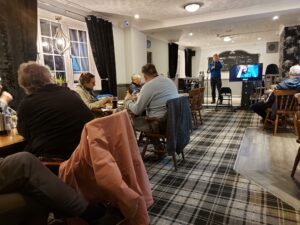 It wasn't a huge meeting, but of the fifteen or sixteen people who joined us to listen and discuss that topic – about a third were not Christians, which weas great. And the non-Christian people were really, really interested. One person who was a student came to speak to me at the end for ages, with loads of very profound questions, who had come after hearing about the event from a friend. He spoke to me for half an hour, and was interested in joining the follow-up discussion group. The church has wisely arranged the discussion group to be in the same pub the following week, to make it easier for people to come to.
Then, two of the people who joined us were tourists, who just happened to be in the pub that night having a meal, and asked if they could stay for our meeting. It was really lovely to be able to chat with them a little. Another guy, who was an atheist came in, after seeing the event being advertised on a community web page. He was really interested in it all, and talked for so long that Matt the pastor, had to offer him a lift home!
I think it was really encouraging for the church to see that when you step outside the confines of your church building into a neutral space, there are many people who are genuinely interested in the Christian faith. That's why we love invitations to café's, pubs, restaurants etc because that's where we so often meet non-Christian people who are spiritually searching and have real questions.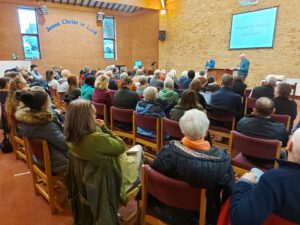 Then on the Saturday morning,  we did a Confident Christianity half-day conference. What was really exciting about that was that people from six different churches came. Mow Cop is a relatively small, rural place – but about 75 people came which was really encouraging. The Community Church there is quite small, but they really made an effort to invite loads of other Christians. They set our fifty chairs, but had to put extra rows of chairs out!
I spoke on "How to share your faith without looking stupid or foolish" and then on "Is Christianity Intolerant" – which is a question which we are often asked by sceptical friends and audiences. There was really good engagement, and really excellent Q&A too. It was wonderful to be able to help Christians to grow in their confidence in their faith. We really can talk to our friends and neighbours about Jesus, and there are ways of doing that naturally. There are also helpful, good answers to the kinds of tough questions which people at Mow Cop were raising too.
One pastor, visiting Mow Cop from another church on the edge of Stoke wanted to know if Solas would come to his church and do some of this kind of training. Of course, we'd love to, so we'll talk further to him about how we can make that happen.
Altogether, it was a really exciting weekend of ministry, combining so many of the things we love doing, at Solas. Evangelism, evangelism-training and being a resource to the local-church in a more rural part of the country where some larger ministries perhaps wouldn't go. But Solas refreshes the parts other don't reach ! So it was great to partner with our friends at Mow Cop Community Church, including Solas's friend Georgie Coster.
Pastor Matt Coster said, "As a small semi-rural church we really appreciated Andy visiting us for a Friday night evangelistic talk in our local pub and a Saturday morning Confident Christianity Conference. The talks on Saturday were helpful and accessible. We were pleased to be joined by members of six other local churches too!"