Andy Bannister took the Confident Christianity conference to the village of Wroughton in Wiltshire recently, at the invitation of Discovery Church Wroughton and the Wroughton and Wichelstowe Parish Churches. The churches had arranged for a half-day conference with Solas, leading into other social events later in the day, a format that semed to work really well. As well as having the opportutnity to work with new churches, Andy was delighted to do some Confident Christianity work in Wiltshire, where he is now based.
One of the features of these conferences is that the topics we address vary in different locations and with the different fellowships we work with. Although we will usually look at tools for conversational evangelism and some of the material explored in Andy's book, "How to Talk About Jesus Without Looking LIke An Idiot", as that is foundational; churches often ask us to vary the programme to suit local needs. One church told us that apathy was the great stumbling block in their community, whereas another told us that sharing the gospel with their Muslim friends and neighbours was what they needed help with. The churches in Wroughton had asked Andy to speak on the following subjects: "How to share your faith in Jesus with confidence", "Can Life Have Meaning Without God?" "Given all the options, why Jesus?". As ever, at Solas events this was followed by a Q&A session where folks could delve more deeply into applying the principles taught to the specific situations in which they live.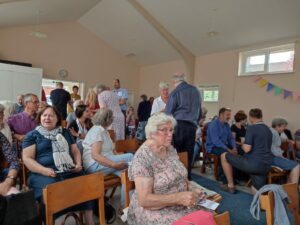 Geoff Naylor, Pastor of Discovery Church wrote, "The conference was well attended with around 65 people from the 2 churches and one or two others. It was an encouraging event helping folks to have confidence in the Gospel in a confused and hurting world. Andy's talk 'Can life have meaning without God' brought a greater understanding of the weakness of the atheistic position and the strength of Christian thinking to many people."
As ever, if your church would benefit from a day or halfday of encouraging, equipping and training in sharing the gospel in today's world – then we'd love to bring a Confident Christianity conference to your city, town or village. We work with churches in every corner of the UK, and would be happy to hear from you about what would be most helpful for your church. Please do send us an email, or call us by using the Connect button above.