It really enjoyed the recent opportunity I had to go and preach and speak at Moorlands College, down on the south coast of England. I was invited to preach at the college's chapel service, which was a real honour – and hugely enjoyable too. Moorlands College is a practical theology training institution and a really great place for Christians to dig deeper into their faith go and study for one-year short courses, or for many years of deeper study. The aim is to help them all become more equipped and trained, not just to understand their faith better- but to put the theology they learn into action.
At Solas we have had a great relationship with Moorlands over the years. Chris Sinkinson, who is on the faculty there, is an old friend of mine who has spoken at a Solas conference, and appeared on our PEPTALK podcast too.  The new principal at Moorlands College, Andy du Fey, I have also known for some years, and I love the passion everyone at Moorlands shares to equip the next generation to take their faith and put it into action, on the mission field, in the secular workplace and in the church.
I spoke about conversational evangelism: How to Talk About Jesus Without Looking Like An Idiot! I have recently released a book with that title, so it seems to be the subject that everyone wants to me to address wherever I go! Discussing this with the staff at Moorlands was interesting, because Bible Colleges can be very sheltered environments. It could be very easy to go to somewhere like Moorlands and hide away from the world for two or three years while studying. So I tried to stir things up a bit by saying to the students, "You may be here during term time, but you will have family members, friends and neighbours who you see at weekends or during holidays. You will meet people who do not share your Christian faith when you are out and about in the town. So how do you take this faith that you are studying and learning so much about at Moorlands, and share that with the people that The Lord bring across our path?"
We ended the session with a time of prayer. I encouraged the students to call to mind the name or face of a non-Christian friend or neighbour who they might expect to meet soon -and to pray that The Lord will create opportunities for conversation with them about Him, next time they meet. I was so encouraged to hear from some admin staff and the guy on the sound desk about how they had really resonated with the topic and were planning and praying about how they could be more intentional about sharing their faith in Jesus.
Solas remains a partnership ministry, we supply speakers and training to churches, other ministries like SU, and CU's and also Colleges like Moorlands. We don't run our own events, but only serve the church, running events at the invitation of the churches to build up what is already on the ground around the country, never replicating or competing with the existing expressions of the body of Christ! So, please do get in touch if we can serve you in evangelism or evangelism-training and equipping.
__
Editor's footnote. Andy du Feu, the Principal of Moorlands College was obviosuly encouraged by Andy Bannister's visit. He wrote: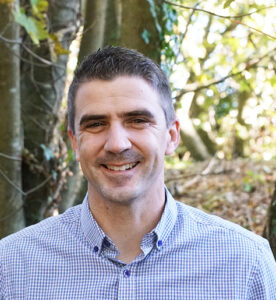 "One of the possible dangers of training at a bible college is your brain expands but the passion you started with dwindles. That's one reason why Moorlands is committed to putting faith into action, whether it is leading and teaching in a church, serving in a homeless shelter, youth club, CAP centre, or hosting a warm space.
But even then, I'm reminded of Tim Chester's challenge, that "without explanation these are like signposts pointing nowhere, or worse – pointing to our good works. The gospel is good news: a message to be proclaimed, a truth to be taught, a word to be spoken and a story to be told." In very simple but powerful words, Andy instilled confidence in our students to share the good news, dismantling many of the barriers that can cripple our good intentions.
Theology can get so complicated. R.C. Sproul defined evangelism as one beggar telling another where to find bread, but we can make it the job of professionals, and abdicate our responsibility by leaving it "to them". But it's our job. And our time. Andy brought a timely challenge with pastoral concern to address the fears that can exist, of looking like an idiot, feeling like a fool, and ending up embarrassed about Jesus."